Michael T. Walters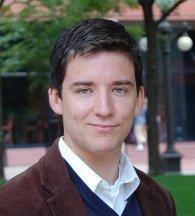 Associate
Location: Rochester, Minnesota
Phone: 507-281-5872
Fax: 507-281-5984
Email: E-mail Me
About Mike
Mike is a native of Rochester. He started in criminal defense in 2008, when he clerked for a defense firm in Minneapolis. He earned his law degree from the University of Minnesota and worked as a managing editor for the law journal, Minnesota Law Review. Mike has been practicing law in Rochester since 2011. The majority of his cases are in Olmsted County, but he also represents a substantial number of people in Winona, Fillmore, and other surrounding counties.
In addition to his criminal-defense practice, Mike is an active volunteer. In 2016, he was elected President of the Olmsted County Bar Association. He competed his term in 2017 and is now the President Emeritus. For the past five years, he has volunteered in city government as a planning and zoning commissioner. Mike is also a team member of the Olmsted County Drug Court. In his spare time, Mike enjoys his family, biking, and baseball.
Mike practices criminal defense in Rochester and all of southeastern Minnesota. For a free initial consultation on your case, please call 507-281-5872.
Philosophy
Every case is based on the individual client. No attorney can represent someone without knowing that person's life and goals. For that reason, when I meet you, I don't begin by talking about the facts of your case. I begin by asking about the facts of your life. Only when I know who you are can I know how your case may affect you.
Pricing
I will never charge you for an initial conversation about your case. You have a right to an understanding of your case and what I can do for you before you are required to pay anything.
After a meeting where we get to know each other and gain an understanding of your case, I will quote you a one-time flat fee that would cover the entire case. That fee varies depending on the complexity of your case, but it is always reasonable. If you are not interested in engaging my services, you do not owe me a dime.
Education
University of Minnesota Law School, Minneapolis, Minnesota
J.D.
University of Minnesota
B.A.
Professional Associations and Memberships
Minnesota Bar Association
Minnesota Association of Criminal Defense Lawyers
Olmsted County Bar Association
Minnesota State Bar Criminal Law Section
Pro Bono Activities
Ramsey County Housing and Conciliation Court Clinic—Volunteer
Olmsted County Criminal Defense Panel
Lay Volunteer, Church of St John
Rochester Planning and Zoning Commissioner