Welcome to Wintering Law Office, Ltd.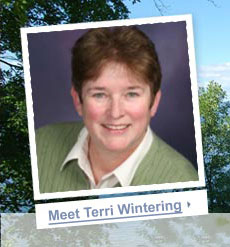 Dealing with legal challenges is always a trying matter. When those challenges have an immediate impact on your personal life and the lives of your family members, a trying matter can become almost unbearable. If you are involved in such a scenario, or fear that you may be soon, we can help you build solutions to your legal issues in an efficient and effective manner.
At Wintering Law Office, our Minnesota family law dispute resolution provider has more than 40 years of legal practice experience. Contact the firm today to schedule your free consultation.
Attorney Terri Wintering's four decades of experience focus on using  alternative dispute resolution (ADR) techniques such as mediation to help people reach family law resolutions with less stress and less expense. We know how to use the power of ADR to help our clients create solutions that function today and that will be well suited to meeting your needs and the needs of your family for years to come.
Building Solutions to Challenging Family Law Matters
If you are facing divorce, child custody, child support, parenting issues, or any other family law matter, we can help you understand the decisions you will make to shape your future and the future of your family. This will help you make informed decisions that will lay the foundation for a better future.
ADR Can Help Solve Even the Most Difficult Situations
ADR offers a number of advantages over traditional civil litigation. During ADR, a neutral third party will provide a space where each party can be heard. The neutral third party will work to help the parties see beyond their differences and find common ground. Having this sort of help can make it easier for both parties to see what they have to gain from cooperating and reaching a mutually acceptable resolution.
Contact a Rochester Family Law Mediator Today
To schedule a free initial consultation, call (507) 281-5857, or simply contact us online. For effective approaches when you are facing a dispute, from divorce to child custody agreements, turn to Wintering Law Office, Ltd. Our Minnesota attorney can help you create a future that will work for you. We accept credit cards for our clients' convenience.