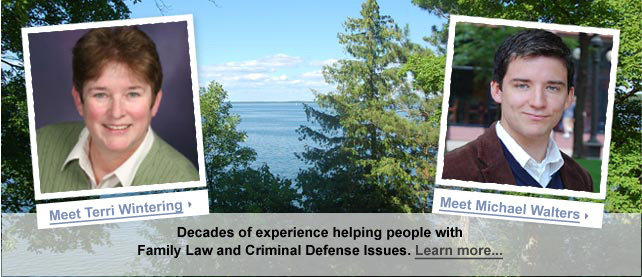 Rochester MN Alternative Dispute Resolution & Criminal Defense Lawyers
Dealing with legal challenges is always a trying matter. When those challenges have an immediate impact on your personal life and the lives of your family members, a trying matter can become almost unbearable. If you are involved in such a scenario, or fear that you may be soon, we can help you build solutions to your legal issues in an efficient and effective manner.
At Walters & Wintering, Ltd., our Minnesota family law and criminal defense attorneys have more than 30 years of legal practice experience. Contact the firm today to schedule your free consultation.
Attorney Terri Wintering's three decades of experience focus on using  alternative dispute resolution (ADR) techniques such as mediation to help people reach family law resolutions with less stress and less expense. We know how to use the power of ADR to help our clients create solutions that function today and that will be well suited to meeting your needs and the needs of your family for years to come.

Building Solutions to Challenging Family Law Matters

If you are facing divorce, child custody, child support, parenting issues, or any other family law matter, we can help you understand the decisions you will make to shape your future and the future of your family. This will help you make informed decisions that will lay the foundation for a better future.

ADR Can Help Solve Even the Most Difficult Situations

ADR offers a number of advantages over traditional civil litigation. During ADR, a neutral third party will provide a space where each party can be heard. The neutral third party will work to help the parties see beyond their differences and find common ground. Having this sort of help can make it easier for both parties to see what they have to gain from cooperating and reaching a mutually acceptable resolution.

Attorney Michael Walters takes swift action on behalf of our criminal defense clients, protecting their rights through arrest, trial and beyond.

Defending the Rights of the Accused

Being arrested and charged with a crime is an overwhelming and stressful situation. Enlisting a knowledgeable criminal defense attorney can help you understand your rights and ensure that your best interests are served. Whether you are facing accusations of DUI (drunk driving), a drug crime, an Internet crime, fraud, assault or other criminal charges, we can aggressively work to see that the charges are dismissed, a plea bargain is made or that your side of the matter is forcefully argued in court.

Protecting Your Privacy

In some criminal cases, police obtain evidence by violating your right to be free from unreasonable search and seizure. A good attorney fights these Fourth Amendment violations by arguing to suppress the evidence.

Fighting Collateral Consequences

If you have a driver's license it could be impacted by traffic violations. Criminal charges could jeopardize a nursing or other professional license. A good attorney knows how to work with the licensing boards to put you in the best position possible.

The most important 'collateral' consequence is the impact on your reputation. You have a right to fight for your good name.
Contact a Rochester Divorce and Mediation or Criminal Defense Lawyer Today
To schedule a free initial consultation, call (507) 281-5857, or simply contact us online. For effective and skilled guidance when you are facing a dispute or criminal law challenge, from divorce to child custody agreements, DWI defense to drug crime defense, turn to Walters & Wintering, Ltd. Our Minnesota attorneys can help you create a future that will work for you. We accept credit cards for our clients' convenience.