Rochester Family and Criminal Defense Law Firm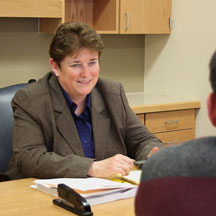 Olmsted County Family and Criminal Law Attorneys
At Walters & Wintering, Ltd., our Rochester family law and criminal defense attorneys understand the impact that legal matters can have on your life. With more than 30 years of experience, we have seen the effects that challenging legal matters can have.Contact our firm today to schedule your free consultation.
We have dedicated ourselves to helping individuals and families through some of their darkest times. We strive to always achieve the client's goals by the most efficient and effective means possible in order to minimize the emotional and financial toll of legal challenges.
Family Law Challenges

For more than 30 years attorney-mediator Terri Wintering has been developing her skills as a practitioner of alternative dispute resolution (ADR).

During those 30-plus years, attorney-mediator Wintering has been through extensive education and training on mediation, arbitration, parenting time expediting, collaborative law and early neutral evaluation, and has assisted hundreds of families in finding ways to avoid costly and negative legal disputes.

The goal of acquiring and refining these ADR skills and techniques is to help people in the most effective way possible. ADR offers real benefits that traditional litigation does not. ADR can help solve problems with less stress, less cost and in less time.
When ADR is not the solution for parties, we will focus on finding the most expeditious means of resolving the client's concerns through the court.

Criminal Law Challenges

Our firm provides clients with comprehensive criminal defense representation through the advocacy of attorney Michael Walters. Handling all types of felony and misdemeanor criminal matters, from DUI and drug charges to fraud and assault accusations, attorney Walters is aggressive in his defense of clients' rights while seeking an end to the case that preserves their best interests and their future.

This means he gains thorough knowledge of the facts, law, and client goals of each individual case. Michael fights for his clients' civil rights by suppressing unlawful evidence. He confronts his clients' accusers with sharp questioning, and he advocates his clients' positions to judges and juries.

To protect our clients' rights and reputations, we work through every stage of litigation, sometimes through pretrial motions to suppress evidence or dismiss charges, through in-trial objections to inadmissible evidence, or through well-spoken arguments for our clients' innocence. In every situation, it means attorney and client working together to create the best possible position for your case.
Contact Our Rochester Family Law and Criminal Defense Law Firm Today
To schedule a free initial consultation, call (507) 281-5857, or simply contact us online. We at Walters & Wintering, Ltd., are focused on addressing our clients' needs and protecting their rights in all family law, divorce and criminal matters. Our Minnesota family law and criminal defense lawyer can help you create a future that will work for you. We accept credit cards for our clients' convenience.