Rochester MN Mediation Attorney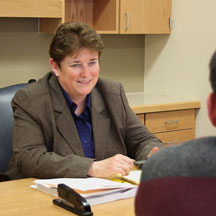 Divorces are often born of an impasse — not just a lack of communication, but an actual inability to communicate. And yet, it is in that same arena where communication is unable to occur that the parties must come together to make decisions on bedrock issues that will control their lives for years going forward.
It is difficult to overstate how important it is that you have a clear grasp of what you want your future to look like. Your divorce is the opportunity for you to make those critical decisions.
At Wintering Law Office our Rochester mediation has been helping people use mediation to reach divorce agreements that build a solid foundation for the next chapter of their lives for more than 30 years. We know what a powerful tool mediation is for creating solutions, and we can help you put it to its fullest use.
Experienced Olmsted County Third Party Neutral
In mediation, the mediator is someone who is not working on behalf of either party. The mediator is a neutral third party who provides a space and a structure in which discussion can occur and progress toward agreement can develop. If mediation is successful, the agreement that is reached there can be the whole basis for your divorce.
Early neutral evaluation is a process in which a team of two evaluators is brought in to evaluate the realistic potential outcomes for your divorce. Having an understanding as to how issues may be heard by the court can help guide a divorce that is more likely to achieve your goals with less conflict, stress and expense.
Contact Us
For effective and compassionate guidance when you are facing a family law challenge, from divorce to custody agreements, turn to  Wintering Law Office, Ltd. Our Minnesota ADR Neutral can help you create a future that will work for you. To schedule a free initial consultation, call 507-281-5857 or simply contact us online. We accept credit cards for our clients' convenience.